You might not give them much thought, but can you imagine using the restroom with multiple toilets and no bathroom partition? Not a chance. Bathroom partitions are essential for any business in order to provide customers and employees with the privacy they need.
Bathroom partitions come in all types of styles and configurations. Higher-end bathroom partitions are highly functional and can add to a restroom's aesthetics, while more cost-effective options can simply serve as a functional option to ensure privacy. Keep reading to learn more about bathroom partitions and how A.G. Maas, Indianapolis' leading facility supplies and furnishings company, can help you choose the right partitions for your business or school's restrooms.
Different Types of Bathroom Partitions
Whether it's a new construction job or a remodeling project, the type of toilet partitions you choose will have a big impact on the look and functionality of your restrooms.
At A.G. Maas, we only work with the top manufacturers of bathroom partitions and have almost limitless options to choose from. Partitions come in a variety of sizes, colors, styles and configurations to choose from. It's also important to consider the function, privacy and accessibility of your toilet partitions. Bathroom partitions can come in stainless steel, solid plastic, powder-coated steel, plastic laminate and black core, to name a few.
You also have several mounting options to choose from, including:
Overhead braced. This is the most popular and cost-effective option. Overhead braced partitions are ideal for heavy traffic. Pilasters are attached to the floor, and an anodized aluminum anti-grip head rail secures the partitions to the wall.

Floor anchored. This option is used for concrete floors only. Floor-anchored partitions do require a 2" minimum penetration into the concrete floor.

Floor-to-ceiling. This option is best used for low- or medium-height ceilings. They are very durable, as pilasters are anchored to the structural ceiling support and the concrete floor.

Ceiling hung. Ceiling-hung partitions use structural steel ceiling supports. They are an attractive option because there is no unobstructive space beneath the stall, which makes for efficient cleaning.
A.G. Maas is proud to work with the following manufacturers of bathroom partitions: Bobrick, Bradley, and A.S.I. Contact us today to learn more about our offerings of toilet partitions.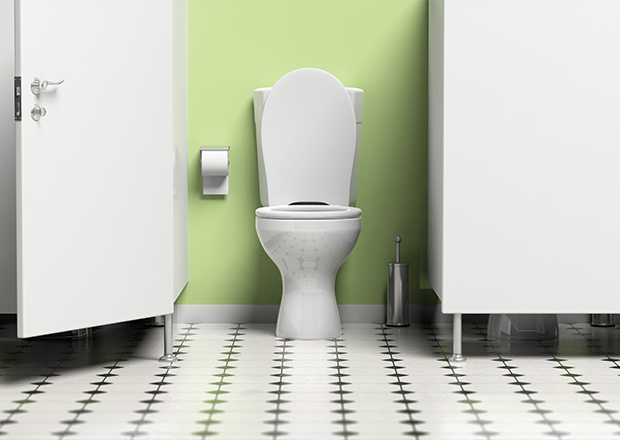 Division 10 Supplies from A.G. Maas
A.G. Maas has a full supply of Division 10 products to choose from, including bathroom partitions. Are other Division 10 supplies include:
Bathroom accessories, including hand dryers, soap dispensers, toilet paper dispensers, paper towel dispensers, mirrors, baby changing stations, grab bars

Fire extinguishers and cabinets

AEDs and cabinets

Metal lockers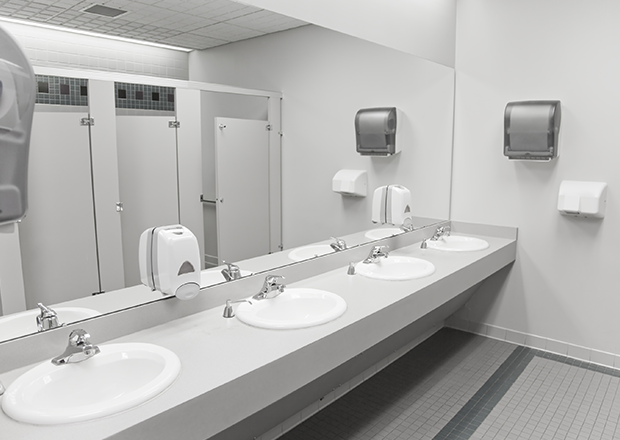 Contact A.G. Maas for Bathroom Partitions
A.G. Maas was founded more than 100 years ago and has steadily grown into one of the most trusted and respected facility supplies and furnishings companies in Indianapolis and the entire Midwest. We're a customer-focused company which supplies world-class service and cost-effective solutions. Contact us today to hear more about our products and services.