A.G. Maas' History and Services
A.G. Maas Facility Supplies & Furnishings Co. was founded in 1915 by Albert G. Maas. Maas used his experience as a pharmacist to develop many of the cleaners himself and sold them from a horse-drawn carriage in downtown Indianapolis. The company later established an office in the Pembroke Arcade Building and is still located near downtown Indianapolis.
Much has changed since our company's early years, but one thing remains constant even today – our unwavering commitment to our customers. We treat everyone with respect and honesty. When you hire A.G. Maas for your janitorial supplies and furnishings, you're more than just a client or a number; you become part of our family. We'll do whatever it takes to solve your problem no matter how unique it is.
Our customer-driven focus has helped our once little company steadily grow into one of the largest and most trusted suppliers of janitorial supplies and furnishings in the state of Indiana and the Midwest. Our goal is to exceed your expectations by offering:
World-class service
A unique solution for your specific needs
National distribution
Supply management and procurement
Unmatched professionalism
Cost-effective solutions
A.G. Maas serves a variety of industries – from schools, government facilities, large office buildings, and more – with quality cleaning supplies, office supplies, site furnishings, and so much more. We provide the products to ensure your buildings stay sparking clean and healthy for your customers and employees.
Community Involvement and WBE Certified
Community involvement is one of core values at A.G. Maas. We believe in leaving a lasting impact in the community by supporting local organizations with our time, supplies, and donations.
A.G. Maas has also been 100% women-owned since 1983. We're proud to be Women Business Enterprise (WBE) certified with the City of Indianapolis and the State of Indiana and Disadvantaged Business Enterprise (DBE) certified with the Indiana Department of Transportation. We are also certified with the Women's Business Enterprise National Council (WBENC). We are a certified Women-Owned Small Business (WOSB) with the Small Business Administration.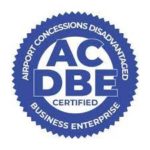 AC DBE Certified
A.G. Maas is certified by the Airport Concessions Disadvantaged Business Enterprise (ACDBE). The ACDBE program is similar to the DBE program in that it is a Department of Transportation (DOT) program designed to level the playing field for small businesses who wish to participate in contracting opportunities at airports.
A.G. Maas Offers Personal Attention and Individualized Solutions
We understand there are other janitorial supply management and procurement companies to choose from. Our personal attention, and a sincere interest in every customer's unique needs, are what set A.G. Maas apart from the competition.
At A.G. Maas, our goal is to quickly supply you with the high-quality products you need to manage your facilities. We'll examine your current process and make individualized suggestions for how to improve it. We understand that your business can't function without the necessary supplies, so we make sure you always have a steady supply of cleaning products and restroom and breakroom supplies. Our supply management and procurement support keep your costs low and the quality of products high.
How do we do it?
We work only with manufacturers which provide dependable customer service and quality products.
We buy products from companies which share our concerns for the environment.
Capability Statement
Titan Associates, Inc. dba A.G. Maas Company is the most dependable and complete local resource for: janitorial supplies, bathroom partitions & accessories, site furnishings, indoor/outdoor mats, procurement support, rock salt, ice melt & water softener salt, and safety supplies & breakroom supplies. The company is currently owned by Cindy Schum.
Cindy partners with her customers to help them understand their facility and janitorial supply needs and looks for cost-effective solutions. With its proven procurement process, A.G. Maas can be your reliable supplier for facility needs and help you develop a procurement strategy that prevents shortages, saves money and makes your ordering and delivery process seamless. Let A.G. Maas help you take The Pain Out of Procurement!
Company Ownership
Our current owner, Cindy Schum, leads A.G. Maas with over 20 years of professional business experience. Cindy actively seeks opportunities to create efficiencies and provide cost-effective solutions for her customers. She plays an active role in the day-to-day operations of the company and enjoys picking up the phone and chatting with potential customers and clients to get to know their business needs, goals, and families.