There are many modern conveniences that have improved our lives significantly. Lysol wipes are one of these conveniences. Before, cleaning meant using several paper towels or rags and using lots of spray cleaner. With Lysol wipes, both these components are rolled into one convenient package that can sanitize, clean, and disinfect many surfaces, electronics, and other common areas.They're very affordable, so every station in your business can have them handy and promote cleanliness throughout the workplace. 
A.G. Maas has a variety of scents of Lysol wipes as well as bulk quantities. Shop our store now to see how much you can save on Lysol wipes for your business.
The Benefits of Using Lysol Wipes in the Office
Having Lysol wipes easily available around the office makes cleaning much easier than searching for cleaning supplies in the office supply closet. These handy wipes are great for small surfaces and disinfecting areas quickly. There are many benefits to using Lysol wipes, such as: 
Kills 99.9% of viruses and bacteria, including 8 cold and flu viruses
Lysol wipes are great for eliminating viruses that are on surfaces such as influenza and respiratory syncytial virus (RSV). They are also great at preventing the spread of bacteria like strep, staph, E. coli, MRSA, and salmonella. Lysol wipes can also help control the spread of mold and allergens like dust, pet dander, and pollen. 
Prevents the spread of the COVID-19 virus
The Center for Disease Control and Prevention (CDC) has recommended Lysol wipes for cleaning and disinfecting surfaces daily to prevent the spread of COVID-19. Be sure to clean the surface first, and then use the Lysol wipes on the surface. Let the surface remain wet for 4 minutes to effectively sanitize the area. 
Can use on desks, door knobs, chairs, phones, tablets and other electronics
Because Lysol wipes do not contain bleach, they are safe to use on electronics like cell phones and keyboards that harbor germs. Lysol wipes are effective at fighting stains, smudges, and smears on most any surface. Using them on common surfaces like door knobs, tables, chairs, and desks can help stop the spread of viruses and bacteria from person to person. 
Allows employees to clean their workspace frequently
It's never been easier to have a clean workspace. Just have your Lysol wipes easily available for employees to wipe down surfaces in their office. This is especially effective when you have multiple people sharing a station or a workspace. 
Promotes a healthier work environment
When cleaning the workspace is easy, the environment will become a cleaner place. Distributing Lysol wipes around the office will instill confidence that the office is a clean environment for everyone.
How Often Should You Disinfect Surfaces?
To keep your workspace safe from the spread of COVID-19 or other viruses and bacteria, it's a good idea to identify high-traffic areas and high-touch surfaces. These are areas that need to be cleaned the most frequently. At least once a day, wipe down surfaces in areas that contain a large number of people, especially if any of them have been sick recently. Cleaning areas that have poor ventilation like bathrooms should also be cleaned frequently.
Wipe down high-touch surfaces such as elevator buttons, door knobs, countertops, railings, keyboards, phones, pens, shopping carts, breakroom tables, light switches and more once a day with a Lysol wipe to help prevent the spread of germs. If anyone in your facility is infected with COVID-19 within the last 24 hours, you should clean and disinfect the entire space. 
Cleaning Supplies from A.G. Maas
Besides Lysol wipes, A.G. Maas is the leader in commercial cleaning supplies for all industries and businesses. We can monitor your use and provide you with regular deliveries so you always have the necessary supplies you need to keep your workplace a clean environment.
A.G. Maas has a large variety of janitorial and cleaning supplies for every mess that comes your way. From dust pans and brooms, to mops and buckets with wringers, you can stock your whole office with all of the cleaning necessities. We also provide storage solutions for your cleaning supplies as well as signage for wet floors and social distancing reminders. Shop A.G. Maas for all of your cleaning supply needs.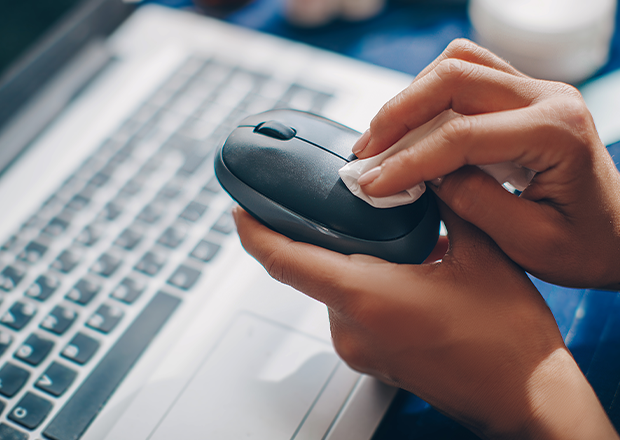 Stock Your Business with Lysol Wipes from A.G. Maas
Lysol wipes and products are in high demand. If you're worried about not being able to find these products in stores, then it's time to set up a regular and consistent supply of these cleaning products with A.G. Maas. We'll always keep you current with your cleaning materials, and if we can't find what you want, we'll get the next best thing. At A.G. Maas, we'll never leave you without the proper tools to get the job done. Call us today to learn more about how we can provide you with regular deliveries of cleaning supplies.